31 January 2023. Sárszentmihály. Masterplast and KÉSZ Group have concluded a strategic partnership agreement. The cooperation between these two significant Hungarian construction companies can be linked to Masterplast's branch of modular building element manufacturing.
Besides the improvement and manufacturing of building elements, their team work will also include the construction of modular buildings, and project applications, which is expected to boost the emergence of the innovative architecture technology on the market. By promoting operational production, Masterplast expects to manufacture 500 building modules per year, which number the company wishes to increase in the following years.
The cooperation agreement was signed in the first, already existing modular office building. The aesthetic, state-of-the-art building illustrates a variety of innovative building technologies that can be used in modular architecture. The technology can be considered a new, separate architectural category, which is characterised by high-level technical content, outstanding energy efficiency, quick construction, and a wide range of use. The technology is based on a precise software-assisted design process, which is typical in car design, and joint design. The modular building elements are manufactured under factory circumstances, independent from weather and seasonal conditions, under a constant monitoring system to ensure quality.
The prefabricated modular building elements are transported on public roads, and the construction on site takes a few days with the help of a crane and a smaller assembly team. A modular building is constructed on a mechanically prepared concrete foundation. A remarkable benefit of modular technology is its recyclability, as in case of a functional change, the building can be disassembled, even moved or relocated 2-3 times during its life cycle. Modularity holds the potential to extend a building or build additional floors to it. Modular architecture can be widely applied since it is equally suitable for constructing standard homes, modern youth hostels, three-star hotels, separate office buildings, or principal buildings for industrial hall offices.
To ensure the success of the cooperation, KÉSZ Group provides their decade-long experience in and the capacity of steel structure manufacturing. As a customer, they have applied modular building elements in a project. On the other hand, Masterplast guarantees the knowledge of thermal insulation production, their expertise in building energetics, and the know-how of the design and production of modular building elements.
"KÉSZ Group, a construction and technology-focused group with one of the broadest portfolios, has always found innovation and sustainability essential. That is why we are constantly looking for new alternatives to cooperate. Together with Masterplast, we started to examine the potential of improving and manufacturing frame structures. Our partner's modular building system is based on a high-strength steel frame structure optimised for the rules of oversized item transport, and it can be constructed up to a readiness of 95% under factory conditions by specialised works and materials. The frame structure, however, must be rigid enough in order that the structures and coverings fixed onto the frame can bear the dynamic stress impact during transportation, hence prevent cracking.
We aim to create a technically suitable, competitive and more easily transportable (that is, disassembled) steel frame structure that pioneers high-volume prefabrication. Vital aspects during development are the ability to be classified, and a minimal set of building elements. Consequently, every solution should support mass and multi-point manufacturing. In the mutual development, the design and manufacturing of the steel frame structure was undertaken by KÉSZ Group on their Kecskemét site. As a result of the development, we created a product that is easy to assemble, yet able to resist dynamic demand and can also be mass-produced", said Tamás Vida, the CEO of KÉSZ Group.
"There is a keen interest in modular architecture technology, and we are expecting a positive response from the market. After the handover of the first building modules and reference buildings, we want to launch the factory production of building modules, in which our strategic agreement with KÉSZ Group means an important milestone. We strive to maintain mutually beneficial cooperation and exploit the business synergies gained by the agreement of two significant Hungarian construction companies. We rely on our partner as a solid supplier of steel structures, who, as a customer, promotes a faster spread of the modular building technology by constructing larger projects", added Balázs Ács, Masterplast Nyrt Vice President and operational leader of the division of modular building element manufacturing.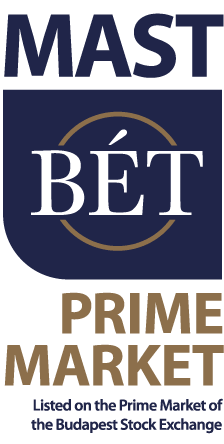 Masterplast Nyrt.
Founded in 1997, the Masterplast group is one of the leading building material producer and distributor companies in the Central Eastern European region. The company group owns subsidiaries in 10 countries, and sells products in a further 30 countries. The company is registered in the premium category on the Budapest Stock Exchange, and had revenue of 201,8 million euros in 2022.