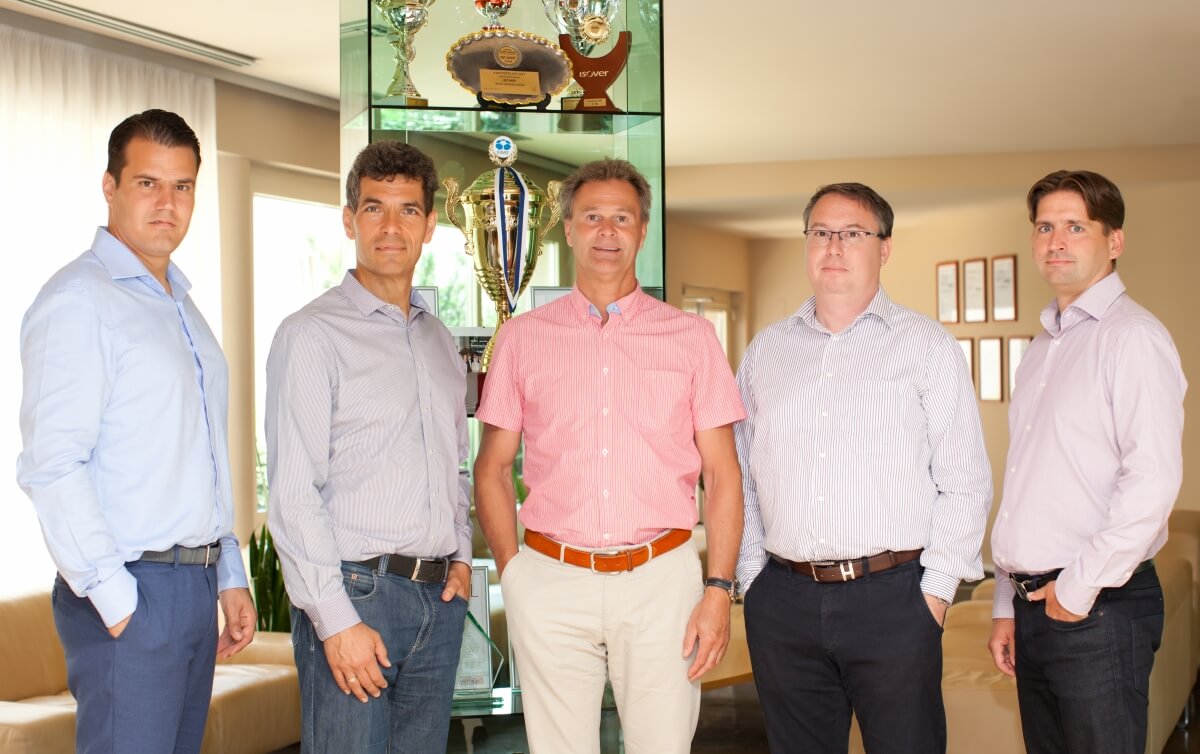 Dávid Tibor,  György Martin Hajdú Dr, Dirk Theuns, András Kazár, Balázs Ács
Dávid Tibor
Dávid Tibor president, graduated as an economist from the College of Modern Business Studies in Tatabánya in 1999. In addition to his bachelor's degree, he got an intermediate banking consulting qualifications. He speaks fluent German and English. He is a devotee of lifelong learning and personal commitment to success through hard work.
In 2007 he won the title of "The promise of the future" in the election of "The Entrepreneur of the Year" award program organized by Ernst&Young. In 2008 he was among the world's three most creative young entrepreneur elected by Junior Chamber International in New-Delhi. In 2009 he received the award "Young Manager of the Year 2009" from the Managers National Association.
He has three children and his hobby is sports. He is keen to try such performance sports as triathlon or marathon running. He loves football and he is known in the amateur sports life of Fejér County with Masterplast football teams. Since 2015, he has been the President of the National Mini-Football Association.
Balázs Ács
Balázs Ács vice president, graduated from Széchenyi István Collage in Győr as a civil engineer in 1999. With Dávid Tibor they founded their mutual company Masterplast Plc as an Ltd in 1997.
He is married, he is the father of 3 children. He does sports in his free time, one of his favourite is ice hockey. Balázs likes travelling and he is interested in old timer cars. He lives in Székesfehérvár with his family.
György Martin- Hajdu Dr.
György Dr. Martin-Hajdu is a financial expert with more than 25 years of professional experience and is a recognized financial professional. He worked in the banking sector for 12 years, first at BNK-KH-Dresdner Bank in the area of structured finance, then at MeesPierson Euramerica as a corporate finance adviser, later as a senior partner at Concorde Securities Group. He had a major role in many IPOs, acquisitions, and venture capital investment transactions. At present, he works as a freelancer, with a focus on organizational development and coaching, and at the same time, he is also active as a financial adviser. He is an associate professor at the Corvinus University of Budapest, where he teaches applied corporate valuation. He graduated at the Karoly Marx University of Economic Sciences in 1987 and studied finance as a Soros scholar in Oxford between 1987 and 1988. He earned his university doctoral title in 1993. He lives in Budapest with his family.
András Kazár
András Kazár is the Head of Capital Markets Advisory at OTP Bank, and is also responsible for Securities Services of OTP Bank. Earlier, he was a Director at UniCredit Corporate Finance Advisory having responsibilities both in Hungary and in the CEE region. András has more than 18 years of experience in capital market and corporate finance transactions, he had leading role in several landmark M&A Capital Market transactions in Hungary. Earlier in his carrier he worked in the corporate finance team of Concorde Group, and PricewaterhouseCoopers. He graduated with a degree in finance and business valuation from the Budapest University of Economics in 1998 and obtained a post graduate law degree in 1999 from the Faculty of Law and Political Sciences at Eötvös Loránd University. András lives in Budapest with his family.
Dirk Theuns
Dirk Theuns started his career as a sales and marketing manager at Atab, a leading roofing and waterproofing manufacturer in the Benelux countries. During the first decade of his career, he mainly focused on commercial and business development of Atab's home markets, and strongly developed the export business in Scandinavia, South-East Asia, central and eastern European countries.
From 2002, he became the European business development manager of IKO. He is the CEO of several IKO companies in Belgium, the Netherlands, and France. He is a member of the Board of Directors of the Chamber of Commerce of Antwerp. He is the President of the 'Economic Plan 2020' project, supported by the Flemish Government, which aims to develop and support subsidiaries of Flemish multinationals and international group companies. He lives in Belgium with his family.