Masterplast Nyrt. began operations in Székesfehérvár in 1997. The activity of the 5-man company founded by Dávid Tibor and Balázs Ács was the building material trade, the main products being roofing foils, fiberglass mesh and building industry accessory products. The small enterprise quickly became popular on the market, thanks to its customer-focused business approach, reliable products and flexible services. Dynamic growth ensued, and two years later it was a market leader in Hungary.
International expansion
International expansion of the successful business model began in 1999, and alongside powerful growth, operating with five subsidiaries by 2002 it was already covering the Carpathian Basin and the Balkan region. By 2005, the Masterplast Group had developed into a regional level enterprise in Central Europe, by which time the subsidiary portfolio covering 8 countries had emerged, which is still in operation today. Since 2012, export activity has continuously expanded, due to which the market presence of the company extended to 41 countries in the world by 2018.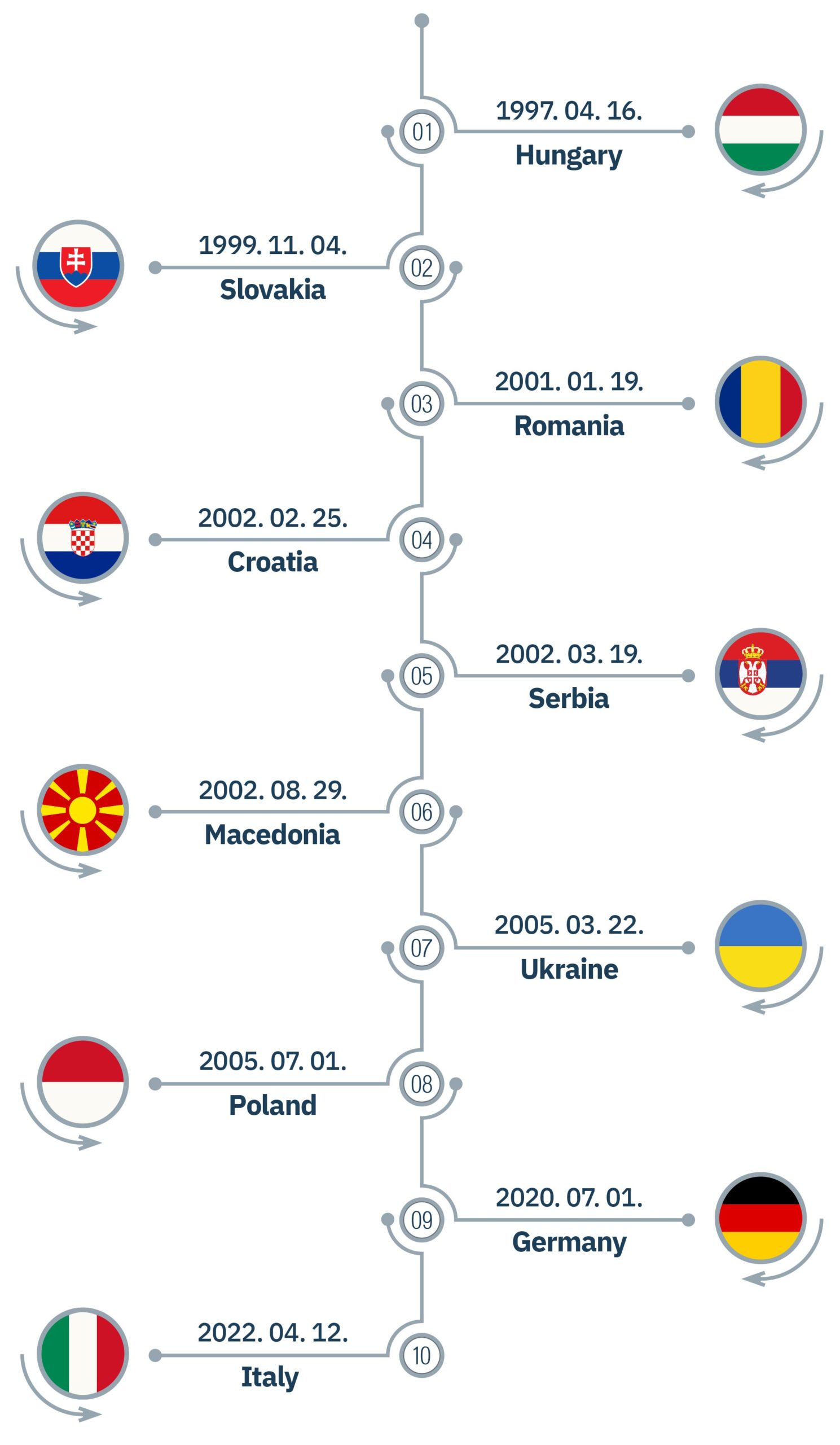 Becoming a manufacturer
Meeting the constantly increasing demand for products has posed an ever greater challenge for the international company group. Provision of a stable background for products also in terms of quality, and a demand for expansion of the range set the company on course for becoming a manufacturer. Masterplast's first manufacturing base began operations in Kál, Hungary in 2005, with the manufacture of expanded polyethylene foam products and dry construction profiles. Production began in the second manufacturing base in Subotica, Serbia in 2008 with the manufacture of EPS polystyrene insulation boards and facade edge protection profiles. From 2012, the company's own manufacturing activity rose to a new level with the production of our fiberglass mesh range, our products with the highest weight in turnover. Following several stages of investment, by 2018 Masterplast had advanced to 3rd place in the ranking of European fiberglass mesh manufacturers, with a manufacturing capacity of 100 million square metres.
Entering the stock exchange
The technical introduction of the company's shares on the Budapest Stock Exchange occurred on 9 November 2011. In order to finance its plans for manufacturing and acquisition development, the company implemented a capital increase in a successful stock exchange transaction in 2012. Since the October of 2017, the company's stocks have been listed in the Budapest Stock Exchange premium category.
The situation today
The Masterplast group is an enterprise listed on the stock exchange dealing in the distribution and manufacture of construction materials, holding a key position on the market for facade insulation, high-roof insulation and dry construction systems. Its revenue is close to 100 million euros, the number of employees exceeds 1000. With its subsidiaries it ensures direct market presence in 8 countries of Central Eastern Europe, and it is present in the majority of European countries by means of its export partners.